Apple Seeds Swift Playgrounds 2.0 with New Robots, Subscription Feature, and More
Apple today released a major update for Swift Playgrounds, the iPad app that's designed to teach students how to code. Swift is an Easy-to-use programming language, and it is the first system programming language with the same expressiveness and interest as the scripting language. Apple's original idea is to use Swift to attract more web developers to develop mobile software, and as you can see, the growing army of developers proves the success of the Swift programming language. On December 4, 2015, Apple announced the open source code for the Swift programming language.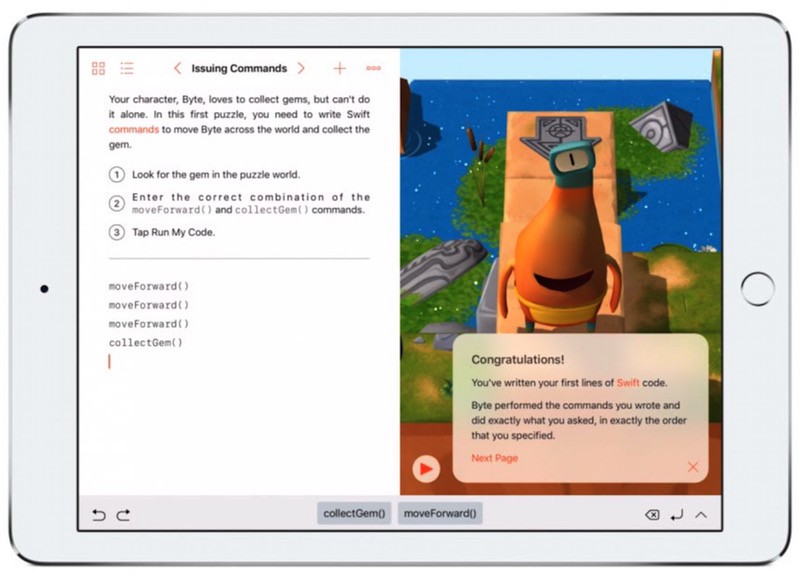 Named by Swift Playgrounds, Apple first launched it in WWDC 2016 which is the free application for iPad, aimed at helping users to learn how to write code using Apple's programming language, Swift through game.
The new Swift Playgrounds 2.0 includes several new features to help you discover even more content, subscribe to playgrounds from your favorite third-party creators and more.
After subscribing to a desired playground, you can browse and download its content directly within the app. You'll be notified when your favorite creators publish new content and shall automatically see any new or updated playgrounds in your subscriptions.
Now you can subscribe to playgrounds from your favorite third-party creators, then browse and download their content directly within Swift Playgrounds.
Other updates include new robots, content gallery, refreshed Help resources, and more. Here are the full release notes:
Subscriptions automatically show new playgrounds when available and alert you to updates
New robots including IBM's TJBot and Mekamon are available from the Add Subscriptions button
New content gallery shows all playgrounds including third-party subscriptions in a single view
Documentation for iOS features and commands is now available from the Help button and the tools menu
Locations button lets you open playgrounds from the Files app on your iPadNote: Third-party robot playgrounds previously included in the app are now available directly from their respective authors when you browse subscriptions.
More in here.