GNOME's Cookbook Recipes Has Been Applied on macOS Platform
Recently, the application Recipes that attached to GNOME has been successfully transplanted in macOS. Many users can have a try on this new practical cookbook app.
GNOME is more than just a popular desktop environment, but also has a series of software. While some parts of the applications are functional, but there are also some applications are not true. For example, there is an application named Recipes served under GNOME's banner, which essentially are the cooking recipes and a searchable database. Although launching such an application is not a mistake, but essentially is similar as search engine version as Google or Bing.
Nowadays, a number of developers jointly transplant the app to desktop operating system of Apple. Though the media BetaNews doubt whether Mac consumers will be interested in such a diet application, but it will at least promote influence, and they want to be able to attract more people to join in it.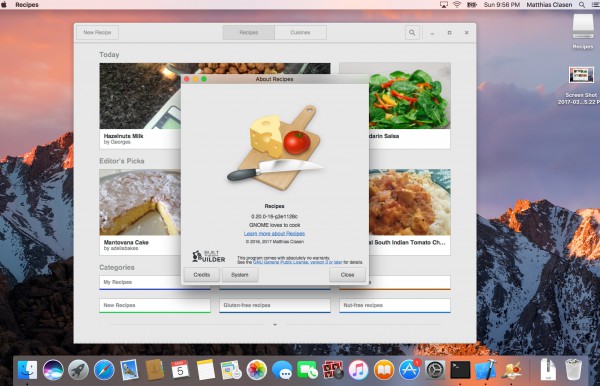 As shown in the screenshot above, this application performs well on the macOS system. The main part of this program is not optimized for macOS system adjustments, but still retains the Linux interface software experience.
Want to try this fresh application on your Mac now? Click here to have a shot: Recipes for macOS.